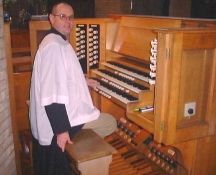 Music and the organ
David Lane GBSM FGMS ABSM LTCT PGCE
The music at St Agatha's is directed by David Lane , a graduate of the Birmingham School of Music. Mass is sung every Sunday and on Holy Days of Obligation. A number of responsorial and congregational settings are used. Approximately once a month the setting is in Latin.
 The organ in St. Agatha's is, without doubt, one of the finest parish church organs in Birmingham. It is a comprehensive three manual instrument with the pipework situated in a chamber high above the sanctuary, a position that makes the most of the generous acoustic of the building.
 It contains pipework by a number of distinguished organ builders, skillfully assembled by Nicholson's of Worcester.
 The swell reeds are by T. C. Lewis and come from an earlier organ in the church which was partially destroyed by fire in 1961. The chorus work on all three manuals and pedals is by Willis and comes from an instrument originally in the chapel of Oundle School. The pedal Ophicleide 16ft  was originally an 8ft  Bombarde of unknown provenance, extended down an octave by the local organ builder Tom Sheffield of Olton, using plywood for the resonators!
 Over the last decade, a significant amount of work has been done on the instrument, the final stage of which was completed in 2021, when the outdated direct electric transmission system was replaced by solid state. This enabled the provision of multi channelled divisional and general pistons - a boon to anyone playing the instrument.
 Sadly, the organ is not recognised as an historic instrument, being made up of pipework from several different builders, but the sound quality is thrilling and it is possible for the organist to play music from most schools in an acceptable, if not always completely authentic manner.
 On a closing note, the console was designed by Stanley Lambert, one time managing director of Nicholson's of Worcester. After the second world war, he bought a number of volt meters from the government that had been used in Wellington Bombers, and installed them in his organs!  This meter can be located on the right hand side of the console, just below the on/off switch; the letters A and M (Air Ministry) are visible on either side of a crown.