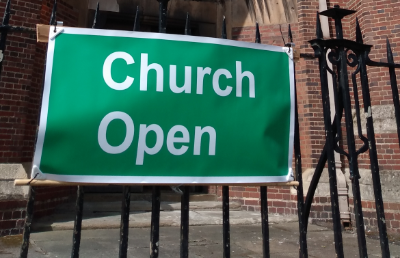 Welcome to Saint Agatha's
Our churches are open again for public worship!
There should be a service every week at St Agatha's at 11am from Sunday 5th July. St Barnabas is due to follow on 12th July. Mass depends on the availability of priests but should be possible most weeks. If you would like to gain access to St Barnabas for private prayer or to check on services, please phone Graham on 0121 744 1286.
If you choose to attend church you will need to follow strict social distancing regulations. There will be no singing or printed newsletters distributed at church, so please bring your paper with you, or get it online from thia website.
St Agatha's is spacious and airy - ideal for social distancing.
Check out our
calendar
for full details of opening times.

A very warm welcome to St Agatha's and St Barnabas churches:
a welcoming all-age worshipping community drawn from the parish, the diocese and beyond
famous for its long and venerable catholic tradition
a breathtaking building - a spiritual powerhouse and a powerful landmark symbol of Christianity towering over the Stratford Road
a Forward-in-Faith parish
two churches - St Agatha's on Stratford Road and the more intimate St Barnabas on Ladypool Road