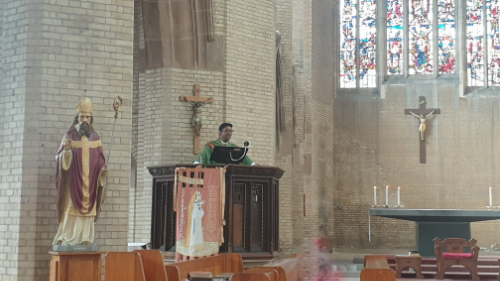 We are very pleased to welcome Fr Thomas Singh as our parish priest, after an interregnum of over three years.  Fr. Thomas writes...
I was born in North India (Punjab) in a Vicarage House, where I grew up in a very rural village and attended a local school 'til the age of 11 years. In my prime days there, I kept chickens, occasionally went fishing with my friends and had a dog called Mothi. I migrated to the UK in the year 1974 along with my family and went to a CofE school in Oxford. Here I achieved: Certificate in Oral English, CSE's and 'O'-levels.
On leaving school i completed several short courses, such as Photography, Videography, Lifeguard certification in swimming and City and Guilds certification in brick-laying, Music was always an integral part of my growing up - I was part of an Indi-pop band known as Eastern Promise and performed at several charity events as well as recording an albun on a cassette.
Gospel music is very close to my heart. As a writer composer and musician, I have recorded some of my music on a CD titled : Gospel Bollywood - Journey of a Saviour Jesus Christ. This was part of my 3 months sabbatical, time well spent in Mumbai India and as a result came way with somethinh doctrinal, theological, spiritual and of course, physical.
For about twelve years I worked as a self-employed driving instructor and found this to be a fulfiling and worth-while life experience.
I have achieved a BTh at Westminster College, Oxford and ODMTG at Wycliffe Hall, Oxford.
I was appointed deacon in the year 2000 and wasptested in 2001. I served a 4-year curacy at All Saints Church, Houghton Regis.
My first incumbency took me to the suburbs of Luton where I seved as a Parish Priest for nearly two dedades Currently I work at the Queen Elizabeth Hospital in Birmingham, as the Anglican Chaplain and thoroughly enjoy my new post.
I am very excited about the prospects in the life of the Parish.
I am married to Sandhya and have four daughters, Hannah our oldest, is married to aman, and Gabrielle, Danielle and Annabelle.