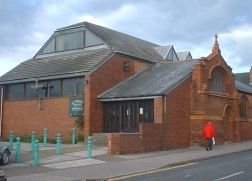 St Barnabas, Balsall Heath
St Barnabas Church is situated on the corner of Ladypool Road and Clifton Road in Sparkbrook. The original church was built in 1904 and St Barnabas became a parish in its own right in 1905. The church was extensively rebuilt following a very serious fire in April 1970. Parts of the old building were incorporated into the new one - giving it an intimate feel retaining a sense of sacred space. The building is now an ideal size for the small congregation which worships there.
The church hall (built in 1968) adjoins the church. In November 1990 St Barnabas because part of the united parish of St Agatha, Sparkbrook and St Barnabas, Balsall Heath. The hall is home to St Barbas nursery.

St Barnabas has always maintained the Catholic tradition. St Barnabas is a lively worship centre in a predominately Muslim area. There are also smaller numbers of Afro-Caribbean and White groups. St Barnabas is very much 'in the thick of things' amongst thriving businesses established along the main thoroughfares (Ladypool Road and Stoney Lane). There is a sung Eucharist at 9am on Sunday mornings . However small - the church has real organ music. You are most welcome